Travelling Cross-Border On VTL by Land Transport Scheme
With nearly about 20 months after the lockdown has been implemented in Malaysia and Singapore, the border between two countries has finally been eased for quarantine-free travel via the First Link causeway following the strict SOPs provided by the authorities.
By November 29, 2021, Causeway Link VTL1 will kick off from Larkin Sentral to cater passengers needing to travel between Singapore and Malaysia following the Vaccination Travel Lane (VTL) scheme of both countries.
Causeway Link VTL1 is expected to gradually increase the initial quota of 1440 passengers per day to travel between Larkin Sentral Bus Terminal in Malaysia and Queen Street in Singapore. The easing of the cross-border journey will be based on guidelines provided by both countries.
Who are allowed to travel through this VTL Scheme?
Passenger who are allowed to travel thru this scheme must fulfil the travelling requirements under the VTL scheme.
For more details, passengers are advised to check more details here:
Malaysia Guide:
Singapore Guide:
What is the bus scheduled?
Where is the drop off and pick up locations?
Please check-in at Gate 5-14. The bus is located at Platform B5, B6 inside the Larkin Sentral Bus Terminal for the boarding area. While the arrival area will be at B01 / B02 facing the dedicated gate for passengers arriving from Singapore to undergo the Covid-19 test on arrival.
The Malaysia-designated VTL-Land bus service would use Larkin Sentral Bus Terminal as the boarding and disembarkation point in Johor Bahru, Malaysia and Queen Street Terminal (QST) in Singapore.
How to book the bus ticket?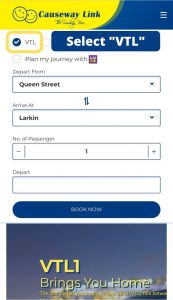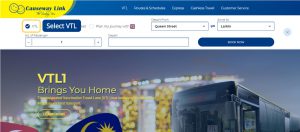 Tickets are available at Causeway Link website.
Passengers are required to be at the boarding area at least 1 hour (Larkin Sentral) / 30-45mins (Queen Street) before travelling time for the pre-departure processing.
All documents must be printed including bus tickets to be shown during bus boarding and Immigration clearance. For more information, please check Causeway Link VTL.
More Information: