CW2 runs 24 hours starting from August 1, 2022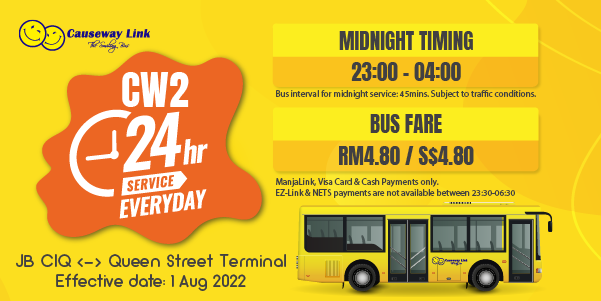 With the increasing request from our passengers, our Causeway Link CW2 bus service will now be available for 24 hours effective August 1, 2022.
Causeway Link CW2 bus service is running the route between JB CIQ in Malaysia and Queen Street Terminal in Singapore.
The bus fare for this bus service are as follows:
Destination
Bus Fare
Mode of Payments
Queen Street to JB CIQ
SGD 4.80 per trip
ManjaLink, Visa Card and Cash payments
JB CIQ to Queen Street
RM 4.80 per trip
EZ Link and NETS payment at our Queen Street Counter is not available to pay the bus fare between 11:30 PM to 6:30 AM. Passengers are encouraged to use a ManjaLink card or Visa card as means of cashless payment for the bus fare.
Passengers using ManjaLink Card to pay their bus fare are entitled to get rebates once their accounts are qualified under ManjaLink rebate program.
The midnight timing for this bus service starts at 11:00 PM until 4:00 AM with 45 minutes bus .  Passengers who want to transfer to and fro Larkin Sentral Bus Terminal during our midnight timing may need to use other mode of transport. However, bus schedule may subject to change from time to time without prior notice due to traffic condition.
Meanwhile, passengers are encouraged to download LUGO App to get the latest bus information of all our Causeway Link bus services. ManjaLink users can also top up their cards in this app.