Terminal Bersepadu Selatan or commonly known as TBS bus station is situated at Bandar Tasik Selatan (BTS). This bus station was opened to the public on the 1st of January 2011 as an interchange to other modes of public transport to ease the traveling experience of commuters going to Kuala Lumpur and other parts in Peninsular Malaysia.
TBS has also played a vital role in the reduction of traffic congestion by diverting the majority of express buses away from the Kuala Lumpur city center. With the presence of TBS, people are linked to other modes of public transport operators such as the KLIA Transit, KTM Komuter and RapidKL LRT for passengers and visitors' easy access to and from TBS.
TBS provides Centralised Ticketing System (CTS), Mobile Apps, E-Ticketing and Ticket Vending Machine to assist passengers to purchase their tickets easier.
At Causeway Link, our booking system is well integrated into the centralized ticketing system for TBS in order for a smooth booking transaction to all our routes plying to this destination.
What are the bus services that Causeway Link is catering to this interchange?
How to buy tickets for Express Bus Service?
Upon arrival at TBS bus station, there are available kiosks for you to buy your express bus tickets in accordance to your desired destination. There are different service operators you can select from but if you are heading towards Johor Bahru and Singapore, you can skip this step by buying your tickets at Causeway Link website.
The e-ticket you have received online must be exchanged to boarding pass released by TBS for scanning at the admission gate to your destination.  You are advised to check-in at the admission gate 30 minutes before bus departure for a smooth bus boarding.
If you are late for your bus boarding and the bus left you, the bus ticket is none refundable. You need to get a new ticket for the next trip.
What are the connecting destinations from TBS?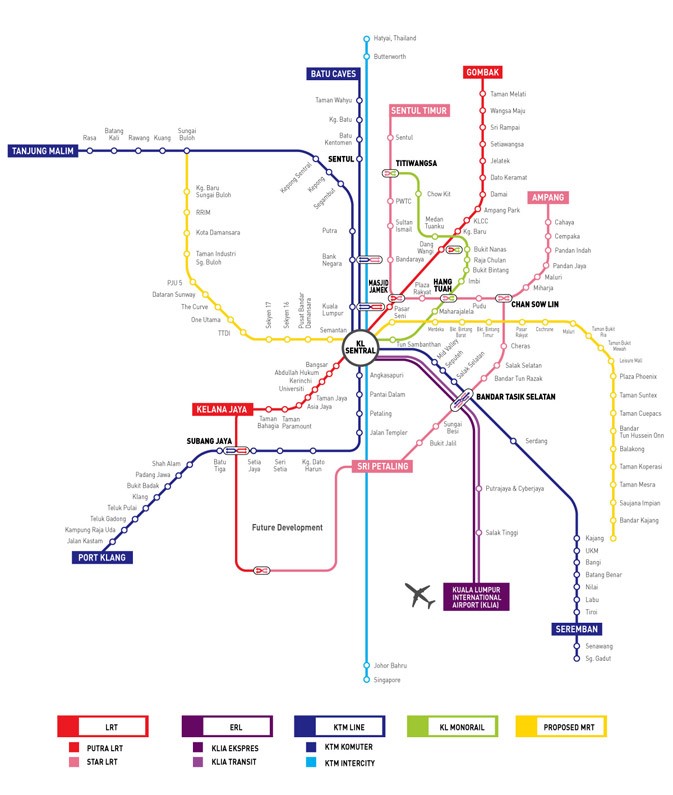 Map Source: http://www.klsentral.com.my/Conn_Main.aspx
Source file: 
https://www.klia2.info/rail/klia-transit/