Malaysia Jabatan Pengangkutan Jalan Trains at Handal Indah For EV Guidelines
Johor Bahru, October 26, 2023: The training department of Jabatan Pengangkutan Jalan (JPJ) ventured to the workshop of Handal Indah Sdn Bhd (HISB) for practical training, aimed at familiarizing JPJ employees with guidelines and standard operating procedures (SOPs) for Workshop license renewals and new applications, especially tailored for Electric Vehicle (EV) Workshops.
The visit focused on providing intricate details and procedures essential for managing EV workshops. The obtained knowledge and exposure are anticipated to significantly enhance the department's expertise in handling EV-related procedures, advancing capabilities in the rapidly evolving automotive industry sector.
Handal Indah Sdn Bhd Workshop Manager, Nor Heffezal Syafiq bin Razali, delivered an extensive presentation through a comprehensive slideshow, highlighting the crucial aspects in Workshop management such as the Company's Workshop Organization Chart, HISB Workshop license certification including a demonstration on how the company processes its renewal, including the required supporting documents.
JPJ team initiated also a site visit to Handal Indah's Diesel and EV workshops. During the visit, Handal Indah staff, including Mr. Ng Kian How, a certified CATL level 2 expert, provided an explanation regarding the necessary equipment for EV Buses. This included the Charge Discharge Machine, Battery Equalizer Machine, and Airtightness Tester Machine essential for the repair and service maintenance of EV bus batteries.
Handal Indah EV Workshop team provided a firsthand view of EV tools, equipment, and Personal Protective Equipment (PPE) for both standard workshop dealing with diesel buses and EV Workshop that caters to electric buses and other vehicles.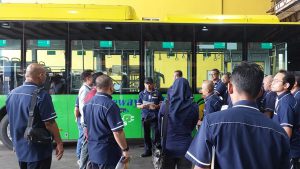 A dynamic Q&A session was also conducted, fostering an interactive exchange of information and insights between Handal Indah team and JPJ, particularly on Electric Vehicles.
A highlight of the visit was also an opportunity for the JPJ team to experience an EV bus ride, enabling them to grasp the practical aspects of EV technology.
The event went beyond mere learning; it also aimed at fostering goodwill and recognition. A photography session captured the significant moments of the visit. The event culminated with a closing speech by Ts. Muhamad Arif Fahmi bin Abdul Wahab from Automotive Engineering Department of JPJ Putrajaya, expressing gratitude for the enriching experience and presenting a token of appreciation to Handal Indah Sdn Bhd.
The session served as a pivotal step in equipping JPJ staff with practical knowledge, enhancing their preparedness to navigate the evolving landscape of automotive technology, especially in the realm of electric vehicles.
This hands-on training event underscores the commitment to continuous learning and development, propelling the Road Transport Department toward a more adept and informed workforce.