Kumpool Ride Attended "Safe Centro" Handover Ceremony at Iskandar Puteri
The team of Kumpool Ride showcased its e-hailing bus booking app to the students as well as residents staying around the Iskandar Puteri during the Safe Centro event held by EduCity on August 11, 2022 in Nusajaya, Johor.
The team shared the different safety elements as well the different features of Kumpool Ride as one of the newest e-hailing bus booking application that can benefit not only the students but also the residents around Nusa Jaya specially for those staying around Bukit Indah in Johor Bahru.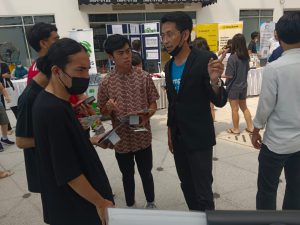 A demonstration was presented by the team for the students and guests to understand how to a book the app as an easy reference as and when they needed the service.  Mr. Abu Izzat, Kumpool Business Development Manager and Mr. Arif Azami, Kumpool Operation Manager has also shared some safety equipment used inside their e-hailing buses to ensure that the students and the community understand their functions as and when they need to use them in case of emergency.
The demonstration as well as presentations that was conducted by the team was in line with the announcement of EduCity Iskandar Malaysia Sdn Bhd and DOE Training & Consultancy on the establishment of 'Safe Centro' as an interactive Safety Education center in Iskandar Puteri.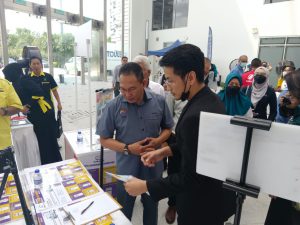 The event was graced by the presence of YB Datuk Haji Awang Bin Hashim, Deputy Minister of Human Resources and Chairman of the National Council for Occupational Safety and Health and represented by prof. Dr. Sakina Sofia Baharom, EduCity Operations Director Iskandar and Datin Fauzirah Zainum, DOE Managing Director.
"Safe Centro"  is established with the aim of exposing students to the risks they face every day with demonstrations in a safe environment, the program offered will teach people how to deal with any risk through simulated learning. The methodology used in this center is to ensure that students understand the risk factors and use the skills learned to deal with the risk
DOE Managing Director, Datin Fauzirah Zainum added, "Our hopes are high for safe centro, which has the vision to become the first Risk Plant in Malaysia and the first in Southeast Asia. Choosing Iskandar Puteri, Johor as the primary location, the program offered is based on four central cores: transport safety, self-awareness, basic safety knowledge, and building safety.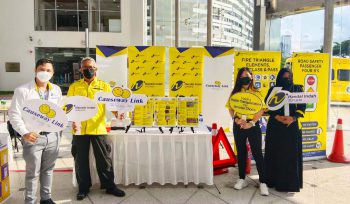 Handal Indah Showcased Public Safety on Public Transport during the "Safe Centro" Handover Ceremony at Iskandar Puteri
Read More