Handal Indah Sdn Bhd Deploys 10 Electric Buses for myBAS Johor Bahru, Ensuring Sustainable Transit with Backup EVs
September 11, 2023: Handal Indah Sdn Bhd (HISB) took a significant step towards sustainability by earmarking 8 electric vehicle (EV) units for utilization in myBAS operations in Johor Bahru.
This initiative aligns with Agensi Pengangkutan Awan Darat (APAD) under the Ministry of Transport's broader mission to introduce cleaner and more eco-friendly transportation options in the country.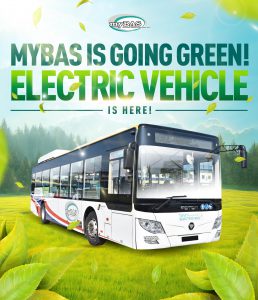 The myBAS Johor Bahru project, launched in April 2022 with 8 electric buses, expanded the transportation landscape in Johor. It covers 19 routes across 5 corridors in Johor: Kota Tinggi, Masai, Kulai, Gelang Patah, and Pontian.
Handal Indah has made history as the first private bus operator in Johor to introduce EV buses for public transport, following the launch of myBAS50 by Malaysian Transport Minister, YB Anthony Loke, in March 2023.
This strategic shift underscores the company's commitment to embracing electric mobility and reducing the environmental impact associated with public transportation. By integrating EVs into their operations, HISB and the myBAS Johor Bahru scheme are not only contributing to improved air quality but also setting a positive example for sustainable transportation in the region.
The EV bus fleet has been strategically deployed to serve two specific routes within the myBAS Johor Bahru network:
Route F100: This route connects KSL City Mall and JB Sentral Bus Terminal, offering a convenient and eco-friendly transportation option between these key locations, ensuring passengers enjoy a comfortable and sustainable travel experience.
Route T13: Covering the route between JB Sentral and Larkin Sentral Bus Terminal, this route plays a crucial role in connecting major transportation hubs in Johor Bahru. With the deployment of EV buses on this route, commuters will benefit from efficient and environmentally responsible transit options.
Each of these specified routes, F100 and T13, has been allocated 4 dedicated electric vehicle (EV) units, in accordance with the provided routing schedules. This allocation guarantees that these routes are consistently serviced by environmentally friendly EVs, providing passengers with a sustainable and reliable transportation choice.
Furthermore, HISB has demonstrated a proactive approach to ensuring service continuity. The company has allocated an additional 2 standby EV units to support these two routes in the event of unforeseen circumstances. This contingency plan aims to ensure uninterrupted service and enhance passenger safety, reaffirming the company's commitment to delivering dependable public transportation in Johor Bahru while prioritizing sustainability.