Causeway Link CW3 And CW3S Are Now Back To Serve You
Causeway Link CW3 and CW3S will now be ready to cater to your traveling needs between Johor Bahru and Singapore via the Second Link.
The pick up and drop off points of these two new routes in Singapore will be at Jurong East Private Bus Pickup/Drop off Point which is about 450 meters away (5 minutes; walk) from the previous drop off and pick up point at the Jurong East Temporary Bus Interchange.
Meanwhile, the destination in Malaysia will be at Perling Mall for CW3 and Taman Ungku Tun Aminah (TUTA) Bus Terminal for CW3S.  Please refer to the below table for our bus timing and bus fare: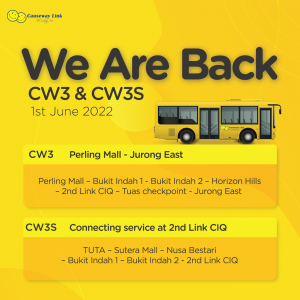 On the other hand, our Causeway Link CW3 and CW3S will no longer pick-up and drop-off passengers inside the TF Value Mart parking area in Bukit Indah, Johor Bahru. Our buses will only pass by the area via the main road.
In line with our cashless payment campaign by June 1, 2022, our cross-buses will be transitioning to cashless payment inside our bus.  For further cashless payment details, you may check on this article: Causeway Link Cross-border Buses to Implement Cashless Payment By June 1, 2022
As a friendly reminder, we would also like encourage our passengers to pay their bus fare using our ManjaLink Card. Rebates are also available for those using ManjaLink payments.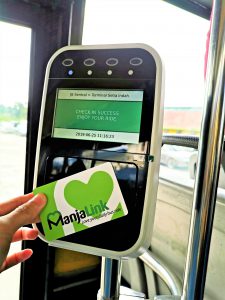 How can I know the bus schedule of the routes that goes to goes cross-border?
Aside from the Causeway Link website, Some Causeway Link bus information is now available in LUGO app. LUGO is a digital assistant that helps commuters detect the estimated bus arrival time and estimated bus fare to guide the commuters.
This App also has a convenient feature/ function to top-up ManjaLink cards online and its available on both Android and iOS version.