August 27, 2020: As Malaysia is still in the recover stage of the Movement Control Order,  Causeway Link in partnership with Desaru Development Holdings One Sdn. Bhd, will be re-operating its direct connectivity between Johor Bahru and Desaru Coast right at the entrance of the Adventure Waterpark Desaru Coast on August 27, 2020.
This was part of the joint-efforts of both organizations in support to the 'Cuti-cuti Malaysia' by adding Larkin Sentral Bus terminal as additional drop off and pick up point, hence allowing Johoreans and other local tourists to visit Desaru Coast for a 1-day family leisure trip.
Dubbed as the Causeway Link JDX bus service, this connectivity starts its operation at 9:00 AM from JB Sentral Bus Terminal and it will reach Larkin Sentral Bus Terminal by 9:30 AM to pick up passengers heading to Desaru Coast in a daily basis. From Desaru Coast, this bus service will go back to Johor Bahru by 6:30PM which is a perfect timing for day trippers from both destinations.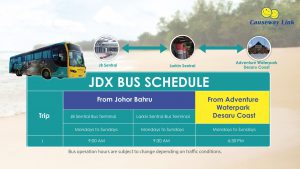 The bus service pick-up and drop off point at JB Sentral Bus Terminal is at Platform 1 or 2 while in Larkin Bus Terminal is at Platform B6, B7, or B8. Passengers boarding from Larkin Bus Terminal does not need to exchange their e-ticket to boarding pass instead just proceed directly to Gate 1-2 section and proceed at the bus platform to look for Causeway Link JDX Bus Service and present their bus ticket to the bus captain before boarding the bus.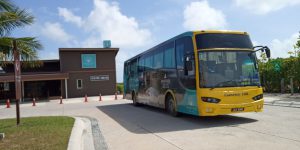 The bus fare remains at RM15 per pax with complimentary free drinks despite the control of passengers that can only be allowed to travel per trip. The traveling time of this bus service is estimated ninety minutes to reach the destination with its spacious and comfortable seat.
Meanwhile, both the management strongly advised the commuting public to be reminded with the Standard Operations Procedures by the Authority when travelling particularly on the contract tracing, wearing of face mask and avoidance of congested areas.
The bus service will also apply social distancing in its seating arrangement to minimise the possible spread of Covid-19.