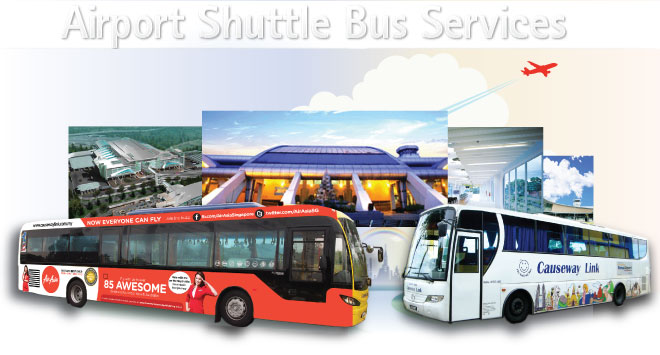 Airport to JB City. Express Bus Service.
Causewaylink's express buses provide reliable, fast and comfortable ride to and from Senai International Airport. It offers daily non-stop traveling between Airport and JB sentral/City Lounge, Kotaraya. There is no better way to travel to airport so affordably and efficiently.

City Lounge, Kota Raya <-> Senai International Airport
How to purchase tickets?
Purchase your ticket at City Lounge (Kotaraya Bus Terminal) and as you are waiting for the bus, grab a light snack, rest and relax at City Lounge.



>Getting to Senai International Airport from Singapore

>Getting to Singapore from Senai International Airport
Board the Shuttle Bus to City Lounge, Kota Raya

From City Lounge, board CW1 to Johor Bahru Custom then to Kranji MRT Station, Singapore
Bus in white color
SA1/SA2
40-45 mins
Transit at
City Lounge
kotaraya Terminal
Bus in yellow color
CW1
20 mins
Kranji MRT station
(Singapore)
From
To
Bus Service No
Time Schedule
Traveling Time
Fare
Senai Airport
City Lounge at Kota Raya Terminal
(Get off at City Lounge and take CW1)
White Shuttle bus
Please refer Time Table below
40 - 45 mins
-
City Lounge
Kranji
CW1
Please refer CW1 Time Table
40 - 45 mins
-
| | | | | | |
| --- | --- | --- | --- | --- | --- |
| TRIP | City Lounge | Senai Airport | | Senai Airport | City Lounge |
| | | | | | |
| --- | --- | --- | --- | --- | --- |
| | DEPARTS | ARRIVES | | DEPARTS | ARRIVES |
| 1 | 05:30AM | 06:05AM | 1 | 06:10AM | 06:55AM |
| 2 | 07:00AM | 07:45AM | 2 | 08:10AM | 08:55AM |
| 3 | - | - | 3 | 9:45AM | 10:30AM |
| 4 | 10:00AM | 10:45AM | 4 | 11:00AM | 11:45PM |
| 5 | 11:30AM | 12:15PM | 5 | 01:00PM | 01:45PM |
| 6 | 01:00PM | 01:45PM | 6 | 02:00PM | 02:45PM |
| 7 | 02:30PM | 03:15PM | 7 | 03:15PM | 04:00PM |
| 8 | 03:30PM | 04:15PM | 8 | 05:30PM | 06:15PM |
| 9 | 04:30PM | 05:15PM | 9 | 06:30PM | 07:15PM |
| 10 | 06:20PM | 07:05PM | 10 | 08:30PM | 09:15PM |
| 11 | 07:20PM | 08:05PM | | 9:20PM | 10:05PM |
| 12 | - | - | | 11:15PM | 12:00AM |
Ticket Price: RM8.00(One Way Only)