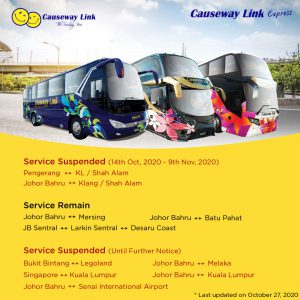 PEMBERHENTIAN SEMENTARA PERKHIDMATAN BAS EKSPRES KE KUALA LUMPUR DAN SELANGOR BERIKUTAN PKPB
Dengan berat hati, berikutan pelaksanaan Perintah Kawalan Pergerakan Pergerakan Bersyarat (PKPB) di Kuala Lumpur dan Selangor, perkhidmatan bas ekspres kami bagi laluan berikut akan dihentikan buat sementara waktu bermula 14 Okt 2020 hingga 9 Nov 2020 (atau sehingga diberitahu kelak).
Sebarang pertanyaan berkenaan pulangan wang atau penjadualan semula tiket dan lain-lain, sila emelkan kepada kami melalui feedback@support.causewaylink.com.my
Sila terus berhubung dengan kami, patuhi SOP dan jaga diri!
PEMBERHENTIAN SEMENTARA

(14hb Okt – 9hb Nov 2020)

(Sehingga diberitahu)

JB – Klang / Shah Alam

JB – KL

Pengerang – KL / Shah Alam
TEMPORARY SUSPENSION OF EXPRESS BUS SERVICE TO KUALA LUMPUR AND SELANGOR DUE TO CMCO
With regret, due to the implementation of the Conditional Movement Control Order (CMCO) in Kuala Lumpur and Selangor, our express bus service as follows will be temporarily suspended starting from 14 Oct 2020 until 9 Nov 2020 (or until further notice).
Any queries regarding ticket refund, reschedule, etc, please drop us an email to feedback@support.causewaylink.com.my
Please keep in touch, follow the SOP and stay safe!
TEMPORARY SUSPENSION

(14th Oct – 9th Nov 2020)

(Until further notice)

JB – Klang / Shah Alam

JB – KL

Pengerang – KL / Shah Alam