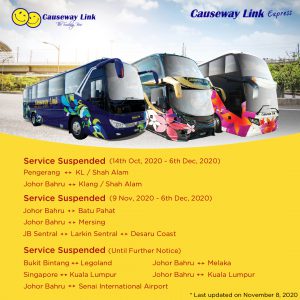 [Maklumat Terkini Nov 9, 2020] PEMBERHENTIAN SEMENTARA SEMUA PERKHIDMATAN BAS EKSPRES BERIKUTAN PKPB
Dengan berat hati, berikutan pelaksanaan Perintah Kawalan Pergerakan Pergerakan Bersyarat (PKPB) terbaharu di beberapa buah negeri termasuk Johor selama 4 minggu dan Kuala Lumpur dan Selangor dilanjutkan 4 minggu lagi, perkhidmatan kesemua bas ekspres kami seperti berikut akan dihentikan buat sementara waktu berkuatkuasa serta merta hingga 6 Dis 2020 (atau sehingga diberitahu kelak).
Sebarang pertanyaan berkenaan pulangan wang atau penjadualan semula tiket dan lain-lain, sila emelkan kepada kami melalui feedback@support.causewaylink.com.my
Sila terus berhubung dengan kami, patuhi SOP dan jaga diri!
[Latest Update: Nov 9, 2020] TEMPORARY SUSPENSION OF ALL EXPRESS BUS SERVICE DUE TO CMCO
With regret, due to the latest Conditional Movement Control Order (CMCO) enforced in several states including Johor for 4 weeks and also Kuala Lumpur, Selangor and Putrajaya will be extended for another 4 weeks, our express bus service as follows will be suspended until 6 Dec 2020 (or until further notice)
Any queries regarding ticket refund, reschedule, etc, please drop us an email to feedback@support.causewaylink.com.my
Please keep in touch, follow the SOP and stay safe!