Save Big on Cross-Border Bus Travel with ManjaLink Card
Traveling across borders by bus can be an exciting adventure, however the costs can quickly add up. But don't worry, there is a great way to cut your costs. The ManjaLink Card is a cashless payment solution that offers the lowest bus fares for cross-border bus services. By using this card, you can save your money and make your journeys more convenient. Let's take a closer look at how the ManjaLink Card can benefit you.
The ManjaLink Card: Your Passport to Savings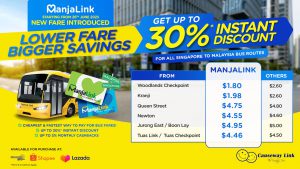 ManjaLink Card is your key in unlocking an incredible savings on all Causeway Link cross-border bus services. Whether you're planning a weekend getaway or a business trip, the card provides you with access to the lowest bus fares from Singapore to Johor Bahru. Say goodbye to expensive travel costs and hello to more money in your pocket.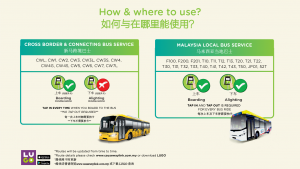 Seamless Travel: Tap and Ride
Boarding with the ManjaLink Card is as easy as 1-2-3. No need to worry about the internet; simply tap your card on the bus without delay.
ManjaLink Card is widely accepted by cross-border and local bus routes in Johor Bahru which makes sure that you can travel to a variety of destinations by just tapping. From Singapore to Johor Bahru, you can explore new places without breaking the bank. No matter where you want to go, ManjaLink Card has you covered.
Convenience and Accessibility
The card is not only cost-effective but also incredibly convenient. With your ManjaLink Card in hand, you can hop on a bus at a moment's notice. Forget about carrying cash or searching for the right change – the card simplifies the process and lets you focus on enjoying your journey.
Crossing international borders by bus has reached a new level of affordability and convenience, all thanks to the ManjaLink Card. Bid farewell to the frustration of exorbitant fares and relish in the most competitive rates available for cross-border bus services. The ManjaLink Card offers a cost-efficient array of travel choices, a streamlined reservation system, an extensive bus network, and unmatched convenience, making it the ultimate travel companion you've been searching for. Secure your ManjaLink Card today, begin your savings journey, and transform your travels into more pleasurable and budget-friendly experiences.