NETS FlashPay is no longer accepted for Causeway Link Cross-Border Bus Services.
Effective immediately, we will no longer accept NETS FlashPay as a payment method for your travel needs.
Alternatively you may still choose to pay your bus fare using ManjaLink, Visa* or Ez-Link cashless payment options.
Why Choose ManjaLink or Visa?
Convenience: Get faster boarding with your preferred digital devices**.
Reliability: Link your ManjaLink or Visa card on LUGO app to effortlessly review your transaction history and keep track of your travel history.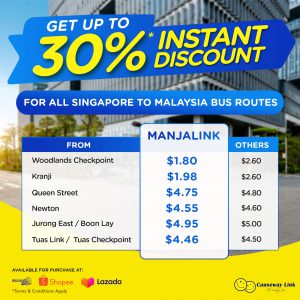 Additional Benefits: Enjoy discounted bus fares, monthly rebates or the reward points*** from the card issuer.
*Visa only applicable for routes – CW1, CW2, CW5 & Woodlands Checkpoints only.
**Visa enables payments through Apple Pay / Samsung Pay or smartwatch.
*** Earn reward points from the bank issuer.