HIGC Director Witnessed MOU Signing Between Handal Lestari and KKKB With Yinson GreenTech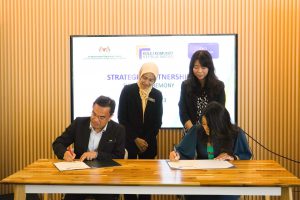 May 10, 2023: Handal Indah Group of Companies (HIGC) Executive Director Ms Lim Chern Fang witnessed the MoU signing between Handal Lestari and KKKB including the strategic collaboration of Handal Lestari and Yinson GreenTech (YGT) in line with a shared vision of revolutionizing the Electric Vehicle (EV) industry in Malaysia.
Datin Fauzirah Binti Zainun, the Chief Executive Officer (CEO) of Handal Lestari mentioned that "this partnership will provide the tools and resources needed to train the next generation of EV technicians, technologies, and consultant who will be responsible for advocating and maintaining servicing the EV of tomorrow."
She also added that her team is "aiming to become the leading EV Academy and safety training provider in Asia in providing the most comprehensive and up to date training for our automotive industry.  We strongly believe that the industry is a driver of innovation, employment, and economic growth and that the people working in it need the most relevant skills and qualifications in progress."
"Being the first in our region to adopt the IMI training program from the UK, we firmly believe that this collaboration between the private and public sector will serve as a model of harnessing the power of electrification to benefit the people." said by Ms Fang.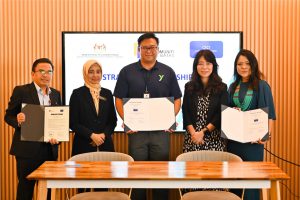 Handal Lestari is a composed professionals who are passionate about electric vehicles, safety and promoting sustainable transportation. Its goal is to provide a comprehensive training programs and resources to individuals and business interested in learning more about EVs and Safety.
The Datin has also mentioned that Handal Lestari EV Training Center Model are mainly focusing in three pillars which will be touching about Employment, Upskilling and Certifications, which will help every participant to be qualified in their own field of expertise.
Ms Zainab from the Ministry of Higher Education covering the portfolio of Kolej Komuniti Kepala Batas (KKKB) mentioned that whatever the student learned from the academy need to be strengthen in practical execution to be more knowledgeable in terms of these technical aspects. With Handal Lestari's EV academy, the students will get more exposure which will help them to be globally competitive.
Meanwhile, some of the safety training that will be introduced under this partnership will be on Occupational Safety and Health Coordinator; Basic Occupation, First Aid and CPR; Emergency Response Team; Introduction of Road Safety; Effective Safety and Health Committee Fundamental of Hazard Identification, Risk Assessment, and Risk Control (HIRACR); and Introduction of OSHA Act and Regulation Compliance.