Handal Indah Group of Companies Conduct First Ever Town Hall Meeting
8/17/2023
Handal Indah Group of Companies recently held its first-ever Town Hall Meeting, bringing together all subsidiaries to discuss the business's growth and development.
The event kicks off with a powerful message delivered by Mr. Lim Chern Chuen, Executive Director of Handal Indah Group of Companies. Mr. Chuen provides an insightful update on the various subsidiaries under HIGC's umbrella and their respective capabilities.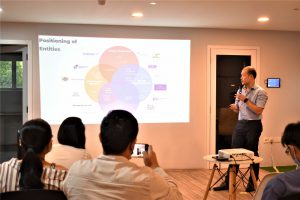 He emphasizes HIGC's unwavering commitment to becoming the market leader in the industry. By focusing on continuous innovation and delivering exceptional quality, HIGC aims to set new standards and surpass customer expectations.
Meanwhile, Ms. Lim Chern Fang, Deputy Executive Director of Handal Indah Group of Companies, has also shared how grateful the management for the dedication and loyalty shown by the staff who remained with the company during the challenging times of the pandemic. She acknowledges the staff commitment and how deeply touched she was by their care and concern for the well-being of the company.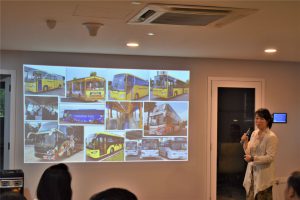 The restriction of movement order in Malaysia, as well as in Singapore, resulted in a significant loss of income for the organization. In light of this, Ms Lim Chern Fang urges everyone to rise above these difficulties and learn from the past experiences. She encourages everyone to cultivate strength and resilience in order to face any future challenges that may arise. With a strong determination to overcome obstacles, she believes that it is possible for every individual to grow and become a better version of themselves as they move forward together.
Moving forward, this town hall meeting provided an opportunity for employees from different departments and locations including Kuala Lumpur, and Singapore to come together thru online and on-site meeting and gain a deeper understanding of the company's development.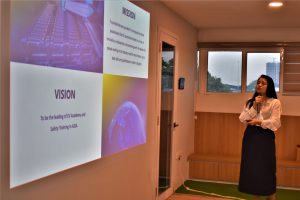 Various key developments were highlighted during the meeting, including the latest Human Resource related matters, market opportunities, technological advancements, and introduction of various departments to the whole group. The management team emphasized the importance of innovation and collaboration in driving the company forward.
The top management thru Mr. Lim Chern Chuen has also shared the need for continuous improvement and adaptation to remain competitive in a rapidly changing business landscape.
This Town Hall Meeting was organised by our Human Resource Department which served as a platform to align all employees with the company's mission and foster a sense of unity across different subsidiaries as we move towards expansion.