Giving Back: Causeway Link Supports Orphanage with Transportation Services for Buka Puasa Celebration
Johor Bahru (15 April 2023): In conjunction with the Ramadan Season of 2023, the Management of Causeway Link participated to the advocacy of 1Third Media Movement, a Singapore-based Non-government Organization (NGO), as they organize a Buka Puasa event at Persada International Convention Center for two homes in Johor Bahru.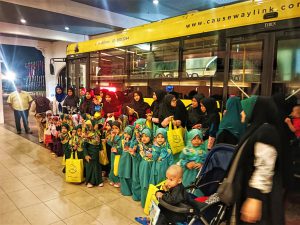 A total of 66 underprivileged children aged 5 to 17, along with their guardians from Rumah Anak Yatim Baitul Maghfirah and Pertubuhan Kebajikan & Rumah Anak Yatim Shafar, were treated to a buka puasa at Zaituna's Ramadan Buffet placed inside the convention center.
"As we gathered here today, let us remember and embrace this true spirit of Ramadan to give back, spread love, and share compassion to those in need. It is with this spirit that our organization to organize this iftar event together" stated by Razuan Bin Yazid, Co-Founder of 1Third Media Movement.
"For those of us who have families, love ones to celebrate with, it is easy for us to forget what is it like to be in the less fortunate side. That is why we want to come here today to share our blessings and show our support for the children in these two homes."  also added by Razuan.
1Third Media is an NGO by a group of working individuals from Malaysia and Singapore. Their main objective is to provide assistance to those who require it, and they achieve this by collaborating with both corporate and working individuals to maintain the continuity of their causes.
On the other hand, Ms Indrimita Sari, Assistance Marketing Manager at Handal Indah Group of Companies (HIGC), extended her support to 1Third Media's cause of bringing joy to the less fortunate children. She emphasized the importance of staying resilient and positive despite the obstacles we face, as there are individuals who care for us. She further stated that HIGC is delighted to be involved in this fantastic occasion to give smiles to everyone.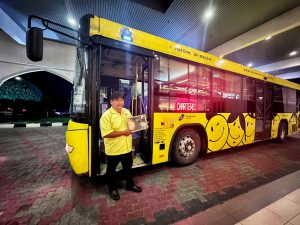 Rodzi Bin Raza, Bus Captain from Causeway Link, was also observed helping the young ones as they board the bus.  The children were thrilled to ride the bus to experience how it feels riding a public transport.
Additionally, as the event came to a close, the Causeway Link team, with the assistance of Shafikah Tajuddin, Sonny Cosme, and Indrimita, provided the children with a small token prepared by the HIGC Management to take home.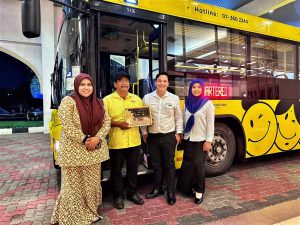 This event was supported by various organizations such Southern Vengers Malaysia, Ghifari Event Management, UPK, Zaituna Restaurant, RTLS Pte Ltd, Haikel's Kitchen, and Aimpest (Navy Blue).