Easy Way To Connect to Desaru Coast From JB Sentral
LATEST UPDATE: The bus service is temporarily put on hold until further notice.
Desaru Coast is one of the emerging destinations in Johor and it is gaining popularity since its inception in 2018.  With the fast development of this place, more and more establishment are coming up.
Getting to Desaru Coast has now been made easier with the reactivation of Causeway Link bus service between JB Sentral and Desaru Coast Riverside. The drop off and pick up points is a walking distance to the doorstep of Adventure Waterpark in Desaru Coast.
The bus fare for this trip is RM66 per pax for two way. Bus tickets are available for purchase via online booking and must be booked at least one day in advance. The cashless cards such as ManjaLink card and Travel Bus Pass card is not accessible as of the moment.
This new bus service also known as "Causeway Link JDX bus services" will be catering on demand basis from Thursday to Sundays, public and school holidays catering between JB Sentral, Desaru Coast and Johor Premium Outlets. The traveling time is approximately 90 minutes depending on the road condition.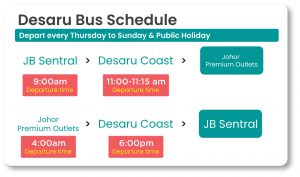 The pick-up and drop off point at Desaru Coast is at the Riverside.  Free shuttle buses to get to the different hotel destinations in Desaru Coast like The Westin Desaru Coast Resort, Hard Rock Hotel Desaru Coast, Anantara Desaru Coast Resort & Villas, One&Only Desaru Coast, and The Els Club are also in the same pick and drop off points.
The pick-up and drop off point in JB Sentral is at the bus bay Platform No. 2. You may refer to any Causeway Link timekeeper staff or Counter Staff on the ground to find the bus.
Here are the guidelines you need when taking the bus:
If you are coming from Singapore, It is advisable to take an early trip (approximately 5.30 AM) from Singapore via the Woodland Checkpoint to get to JB Sentral right after the CIQ Immigration Custom area.
Proceed to Platform No. 2 inside the JB Sentral Bus Terminal to board the Causeway Link JDX Bus Service. Should you need assistance on the bus location, you are advised to seek assistance to any Causeway Link staff on the ground to locate the bus service.
Customers are advised to be at the bus bay area for at least 15 minutes before bus departure time in order not to miss the bus. Please be reminded of your safety as this station is busy for buses to pick-up and drop off passengers. Hence, you must be alert as to where the bus is.
Each passenger is only allowed to bring on board two (2) medium-sized luggages during the journey. The weight of both luggage must not exceed fifteen (15) kilograms.
Recommended bus services I should take from Singapore to enter JB Sentral?
Singaporeans and other international tourists coming from Woodland Checkpoint do not need to hire a van or use their own car to get to Desaru Coast. They just need to take Causeway Link cross-border buses such as CW1 (from Kranji MRT Station), CW2 (Queen Street Terminal) or CW3 (Newton Circus) buses to get connected to the JB Sentral via the CIQ First Link.
Right after the CIQ First Link, tourists from Singapore will need to take a few minutes' walks to the bus bay area at the JB Sentral to get connected to the Causeway Link JDX bus service.
Causeway Link JDX Bus Service is also catering passengers who wants to get to Johor Premium Outlet (JPO) from Desaru Coast. Booking for the bus service is only thru online and must be one day in advance.