Causeway Link Partners Raffles Medical Group to Support the Singapore-Malaysia Land VTL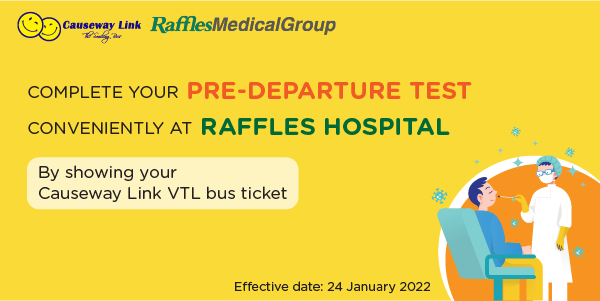 In partnership with Raffles Medical Group, you can now take your pre-departure COVID-19 test at $24 (inclusive of GST).
Effective April 1, 2022, Causeway Link VTL passengers taking the Pre-Departure Test at Raffles Hospital will be $25 (inclusive of GST).
Please note:
The Travel Testing Centre at Raffles Hospital is located nearer to the Raffles Specialist Centre.
Address: 585 North Bridge Road, Raffles Specialist Centre, Singapore 188770.
?https://g.page/raffles-specialist-centre?share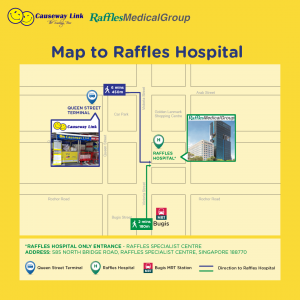 Passengers must visit the Travel Testing Centre (TTC) at Raffles Hospital to take their Pre-departure Test (PDT) – Antigen Rapid Test (ART).
Passengers must arrive at the TTC at least 2 hours before boarding time.
A travel certificate will only be issued if the passenger is tested negative.
Passengers will receive an electronic travel certificate at the email address provided during registration. For those who require a printed copy of their test result, please inform the staff at the registration counter.
A valid passport and Causeway Link VTL ticket are required for registration.
Please present either the electronic or hardcopy of your PDT that reflects a negative test result during the pre-boarding process.