Causeway Link Introduces Its First Electric Buses on Cross-Border Routes Via the Second Link
Johor Bahru (October 18, 2023): In a significant stride toward eco-conscious public transportation, Handal Indah Sdn Bhd, operating under the brand Causeway Link, has introduced its inaugural fleet of electric buses on cross-border routes via the Johor–Singapore Causeway.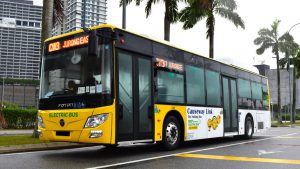 The introduction of these 12-meter electric buses onto routes CW3, CW4, and CW6 marks a significant milestone in the company's commitment to sustainability and environmental responsibility. A total of four electric vehicles (EVs) will be deployed initially, with more to be added in subsequent phases.
Causeway Link's decision to embrace electric buses reflects its unwavering dedication to reducing carbon emissions and promoting sustainable transportation in the region. With growing concerns about climate change, the transition to electric buses represents a vital step in reducing the carbon footprint of public transportation.
These state-of-the-art electric buses from Causeway Link are equipped with technology that ensures a comfortable and environmentally friendly commuting experience for passengers. Operating with zero tailpipe emissions and offering a quiet, smooth journey, these electric buses promise a cleaner and more peaceful travel experience.
The introduction of these electric buses is part of Causeway Link's broader initiative to transition its operations to be more environmentally conscious. As a significant player in the public transportation sector, Causeway Link strives to set an example for others in the industry to follow.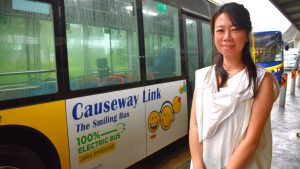 According to Ms. Lim Chern Fang, Executive Director of Handal Indah Group of Companies, "The introduction of electric buses is not only a remarkable achievement for Causeway Link but also a promising development for the entire transportation sector. Electric buses are regarded as a pivotal element in future urban mobility solutions, reducing pollution and mitigating the impacts of climate change," she added.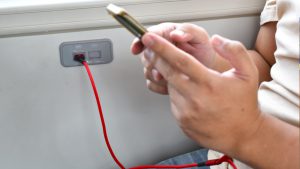 Highlighted feedback from randomly selected passengers who have ridden these electric buses underscores their comfort and convenience. The quiet operation and reduced vibrations create a serene atmosphere on board, enhancing the overall travel experience. USB charging ports are thoughtfully provided, offering passengers a convenient way to charge their mobile phones, especially during heavy traffic along the causeway. It's a highly appreciated and practical facility.
This initiative by Causeway Link not only showcases its dedication to eco-conscious transportation but also sets a shining example for the industry and the broader public transportation sector. As climate concerns continue to grow, the introduction of these electric buses serves as a significant step toward a more sustainable and eco-conscious future.
With the success of this initiative, it is expected that other companies will follow suit, furthering the transition to cleaner and greener public transit options. Causeway Link's introduction of electric buses sends a clear signal that public transportation is evolving towards a more sustainable and environmentally conscious future.