S1 Shopping Bus
The S1 shopping bus service is designed to attract tourists and provide greater convenience to passengers. It passes through shopping malls like KSL City, City Square, Danga City Mall, Plaza Pelangi and Holiday Plaza. In addition to these shopping malls, the S1 shopping bus also passes along three hotels namely; Hotel Grand Paragon, 11 @ Century Hotel and Mutiara Hotel. And as such, hotel guests from the aforesaid hotels could also take this bus to any of the shopping complex or to JB Sentral from their respective hotels and vice versa.
How does the bus operates
The S1 shopping bus operates from JB Sentral bus interchange which is directly below the Customs and Immigration Building using an escalator going down to this interchange. Wait at bay no 2 for the S1 bus to arrive. It operates at about 20 minutes interval and while waiting, there are many shops selling food and drinks near the bus bays. The bus fare is between RM1 – RM2 depending on where you wish to alight.
Taking a ride on the S1 bus is convenient and affordable. Taking a taxi from JB Sentral to any of these destinations may cost between RM10 – RM15. So there is no reason why one wouldn't take the S1 bus service from JB Sentral to any of the shopping centers or hotels as earlier mentioned.
Shopping Malls
Shopping in Johor Bahru City can be fun and also less of a strain on the budget. Johor Bahru City is a shopping haven – a magnet to many – for its variety, trends and choices of large numbers of shopping malls available.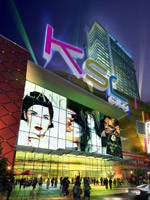 KSL City
www.kslcity.com.my
Johor's largest and most modern retail complex with a gross floor area of 880,000 sq ft. It has 420 retail outlets, 50 food and beverage outlets and 8 cineplexes including two 3D screens. Ample parking space with 2,800 parkin lots are available.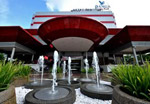 Danga City Mall
www.dangacitymall.com
Your one-stop IT centre where IT sales and promotions are often organised. Hottest IT promotions at attractive prices are frequently offered. Danga City Mall is also known for its exhibitions and fairs.
Hotels
There are plenty of accommodations to suit all budgets. They offer not only the utmost comfort to guests but also facilities and services such as restaurants, fitness gyms and entertainment for both business and leisure travellers alike.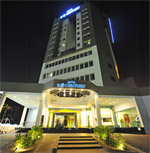 11@ Century Hotel
www.11century.com
Step into 11@ Century, an urban modern boutique hotel, be marveled and lost in transition with the swirls of urban colors and furnishing, tampered with a sleek modern ambience. It offers 233 rooms and is situated in the shopping district, a stone's throw away from shopping malls like KSL City, Holiday Plaza and Plaza Pelangi. The hotel is only about 5 km away from Singapore and a shuttle bus service from JB Sentral to the hotel is available on the S1 shopping bus.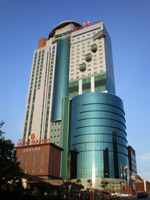 Grand Paragon Hotel
www.grandparagonhotel.com.my
It is your city hotel that offers more than just a pleasant stay. Situated in the heart of the city, Grand Paragon Hotel is less than a 5 minutes drive to the causeway and is located along the main trunk road to the north of the peninsular. A shuttle bus service (S1 shopping bus) is available from JB Sentral to the Grand Paragon Hotel. It features 336 rooms and suites, luxuriously furnished and equipped with modern amenities for both business and leisure travels alike.