BEST FM Wraps One of Causeway Link CW2 Bus
The latest bus advertisement in Johor Bahru has taken the city by storm! Best FM, being one of the largest radio Station in Southern Region of Peninsular Malaysia has collaborated with Handal Indah Sdn Bhd (HISB) to create some of the most eye-catching bus wraps to date.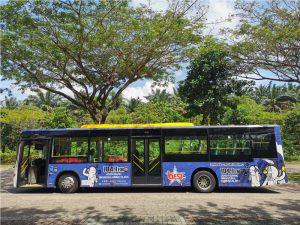 This bus wrap was placed to Causeway Link CW2 bus service which is cross border service that connect passengers between Johor Bahru and Queen Street Terminal via the First Link (Woodland checkpoint). The payment options for this bus service can either be cash, ManjaLink card, or ManjaPay.
If you a regular cross-border commuter, It's impossible not to notice this bus as it drive by, leaving a lasting impression on everyone who sees it with their tagline "Terbaik Untuk Harimu"
The design is impressive, and it is a reminder to everyone to tune in to Best FM and stay connected with the latest news and entertainment.
But that's not all. Best FM's famous announcers visited Handal Indah Headquarters to have a bus ride and do some social media content on this first ever Best FM Bus wrap with HISB cross-border buses.
It was an exciting experience to have them here, and the energy they brought was infectious. They made everyone feel at ease, and it was evident that they have a passion for what they do says Ms Lim Chern Fang, the Deputy Executive Director of Handal Indah Group of Companies.
Meanwhile, Handal Indah Team is thrilled to be a part of their social media content and it was an excellent opportunity for both to showcase both brand in a fun and innovative way.
This collaboration between Best FM and Handal Indah Sdn Bhd has been the first of its kind. The bus wrap ads have been generating a lot of buzz around the city including in Queen Street Terminal in Singapore since Best FM can also reach their frequency there.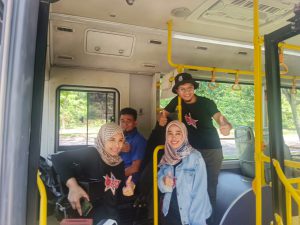 On the other hand, It has also been an exciting moment for HISB staff to have photo with their popular DJ's such as  Rahfiza Ab Rahman, Ahmad Fadhullah, Najwa Marsaid and some of their back end team and General Manager, Mr Rizal Sahimy.
You are expected to see this beautiful bus wrap within 6-months and if you ar also interests in doing some branding with us, you can get in touch with our sales team  at busadvertising@handalindah.com.my to learn more about this bus ads.